Hi all beautiful ladies out there!
Today I have a very special Glamour Makeover blog post for you. How many popular stories based on a transformation of a poor little girl into a beautiful princess? Well, here's one more. Correction – the girl was beautiful to begin with, we just photographed her the way she deserves to be photographed. Because the beauty is more not just what we see from outside, it is something that comes from a person's soul.
Today I'd like to features Eleanor, a beautiful and sophisticated woman, who was an absolute pleasure to photograph. As you can see, she has such a beautiful smile that lights her up!
Eleanor is a mom and a med student up in Philadelphia, so she doesn't exactly have much time to herself. Look how beautiful and happy she looks in her photos! That's how it should feel like being a woman.
We had a Glamour portrait session at my home studio. Her hair and makeup were done on site, so Eleanor experience a full glamour transformation experience, while enjoy some girl time.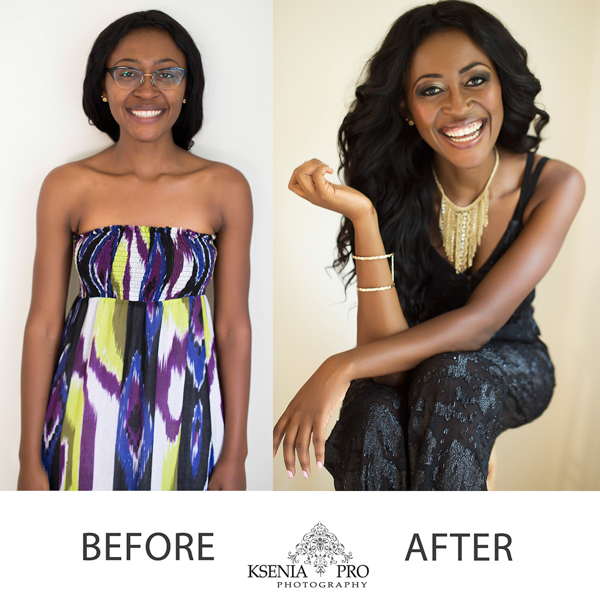 I just love the way her hair looks – so full, shiny and beautiful!
Once Eleanor was finished getting pampered and perfected, we began the shoot. She brought four changes of clothing for the session, I loved them all, but we both agreed that the red pencil dress and a black jumpsuit would look best for the pictures.
We talked beforehand, and decided to go for a simple elegant portrait with a very natural feel, that would show her personality. I definitely think we were able to capture that!
Eleanor Says: "Ksenia Pro is the photographer of the year" – I loved that comment on her Facebook page!
I'm glad to hear she had such a positive experience!