I love meeting great people in general, but moreover I love getting to know great families, who seem to find their way to live in harmony. I mean, sure, every family has its own issues, and Leo Tolstoy may have said "Happy families are all alike; every unhappy family is unhappy in its own way." I still think that families who have found a way to accept, support each other and be happy together, are the ones that should be admired.
I happened to meet this wonderful family of four – Hedy, Babak and their two lovely daughters Noora and Tara.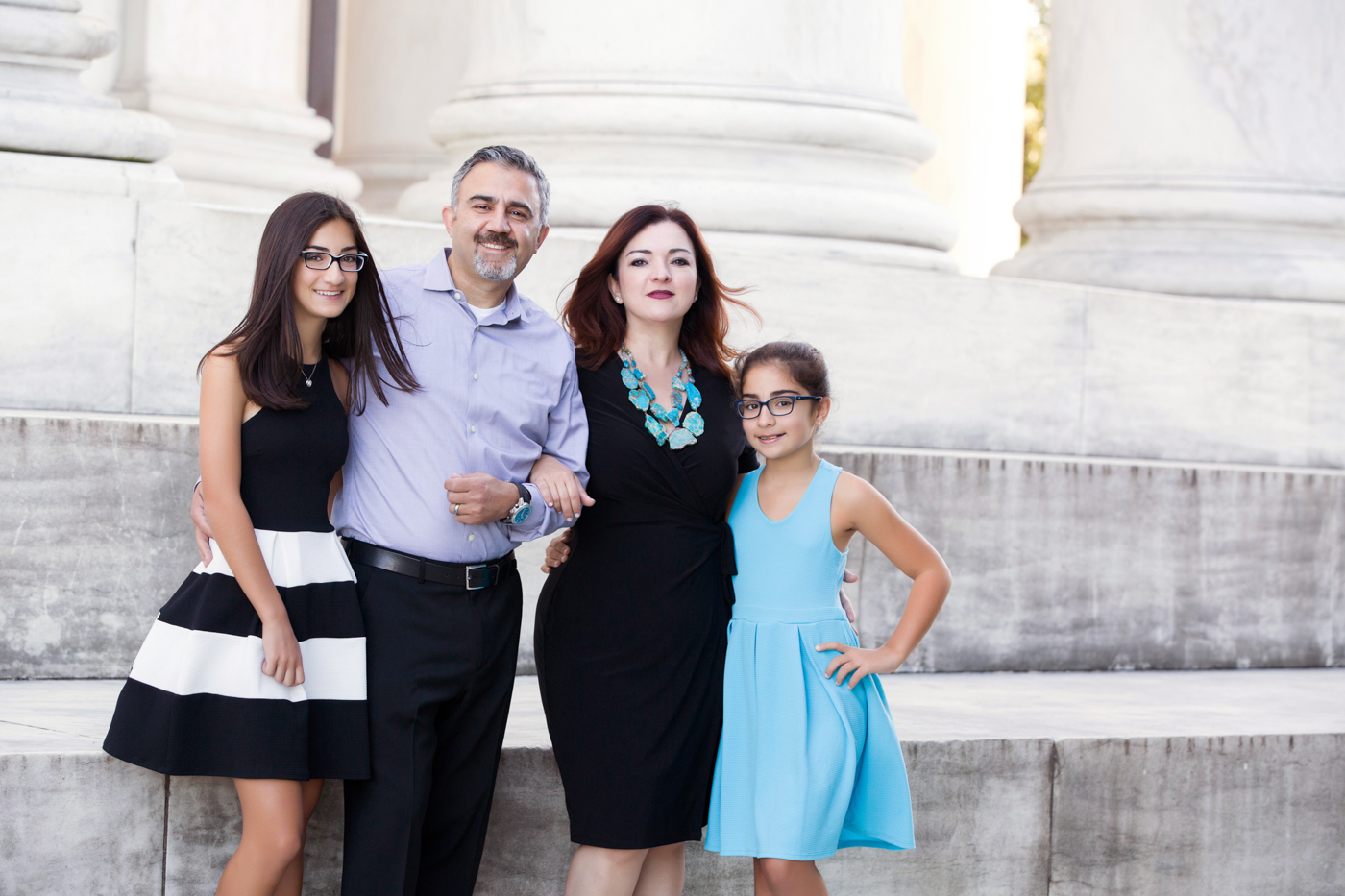 We initially met through a common friend of mine a few years ago. I couldn't believe how much the girls have grown, when I saw them all dressed up for the photo shoot.
I still remembered them being just kids, but now they certainly looked like beautiful young ladies.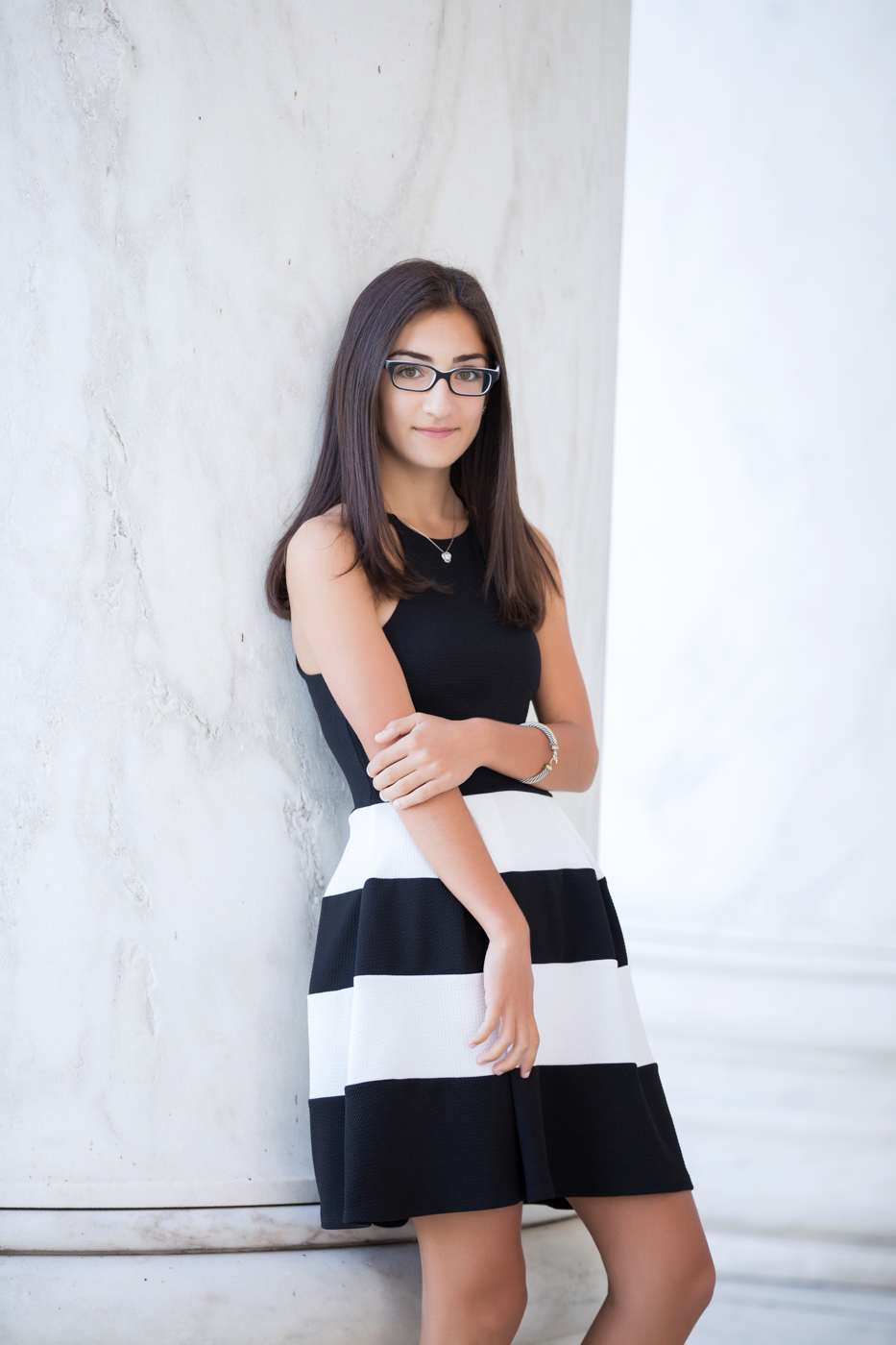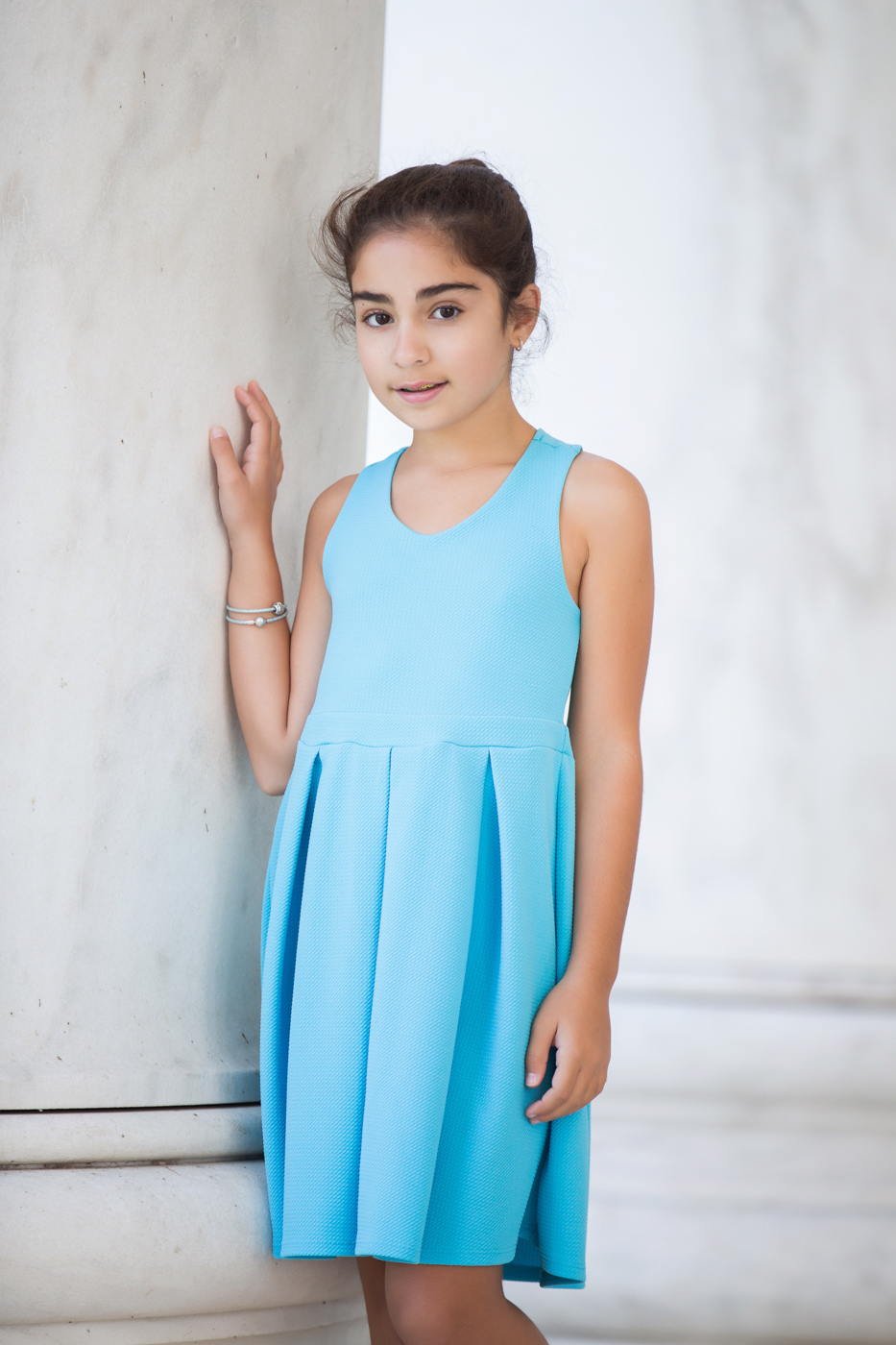 One of my favorite places to take pictures in Washington, DC is Jefferson Memorial. The marble serves as a great, very neutral background, while the monument structure gives some cover from the direct sunlight.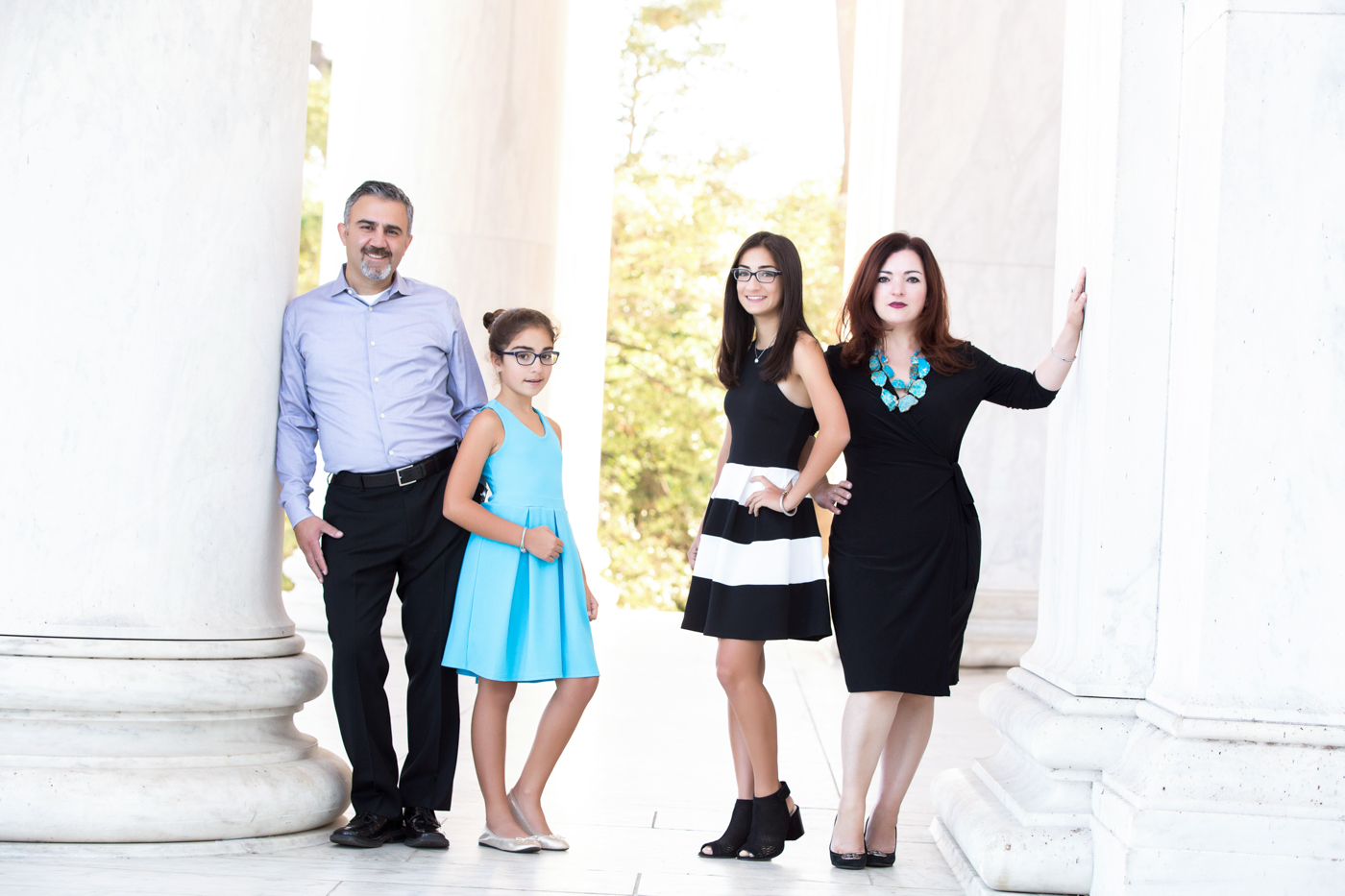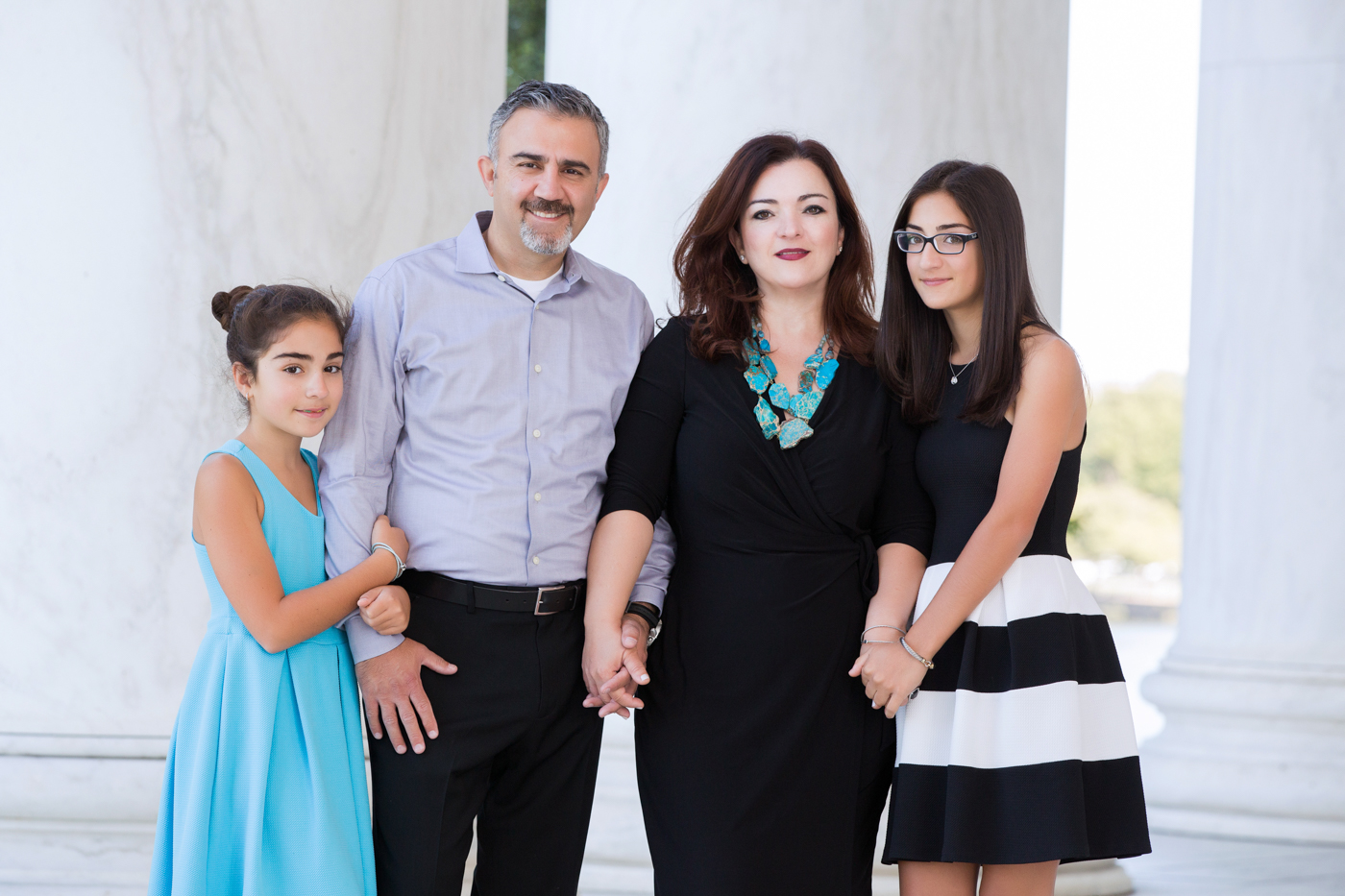 Hedy specifically wanted to do family pictures in DC – something classic and timeless. I think marble and tall columns of Jefferson Memorial were exactly what they were looking for.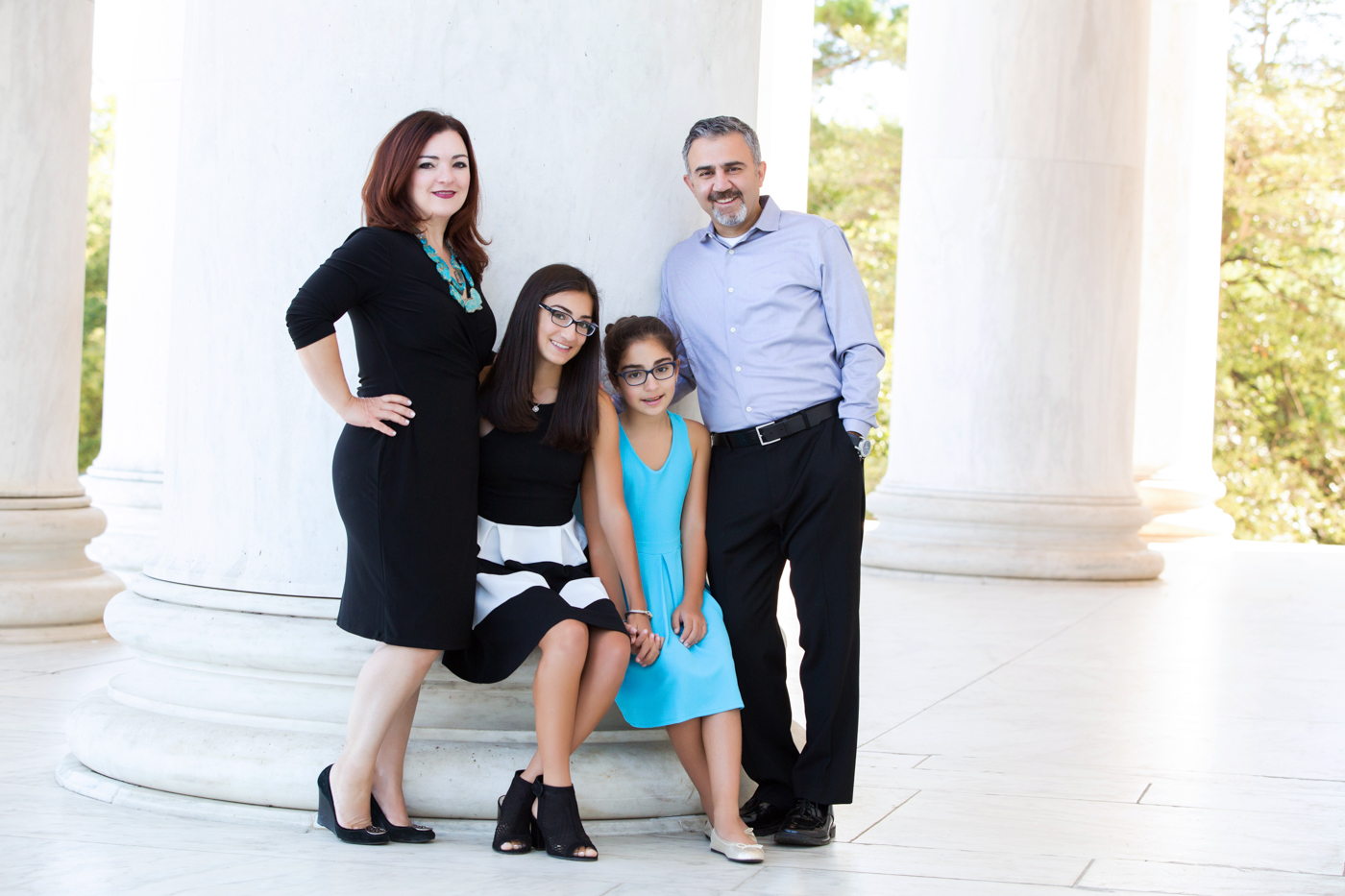 Notice, how Hedy put together the outfits for the family photo shoot. I usually advise to coordinate outfits, so that the colors and styles looked cohesive. They used black color as a base, with white and turquoise as accent colors. Simple styles and solid colors usually look best in the pictures.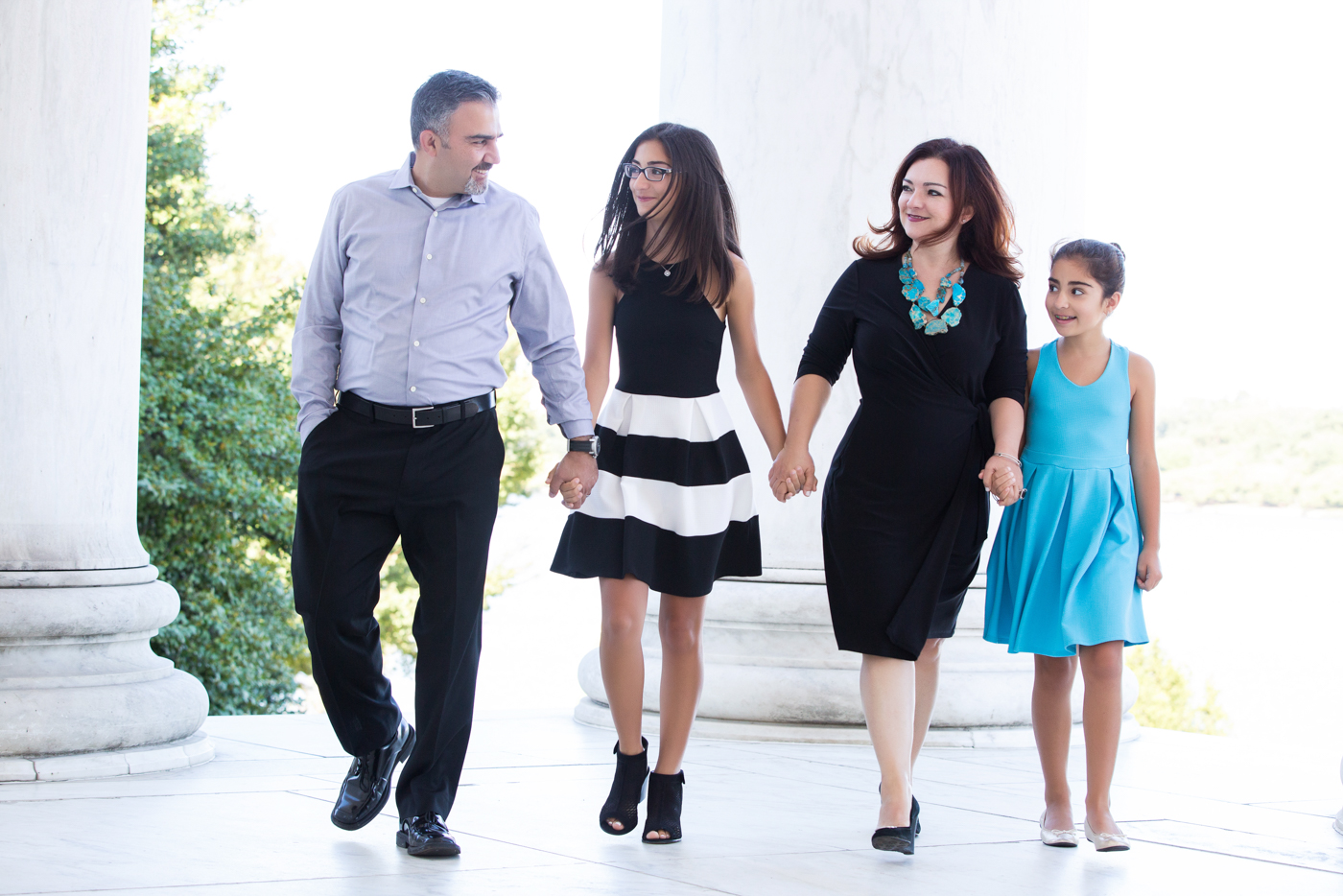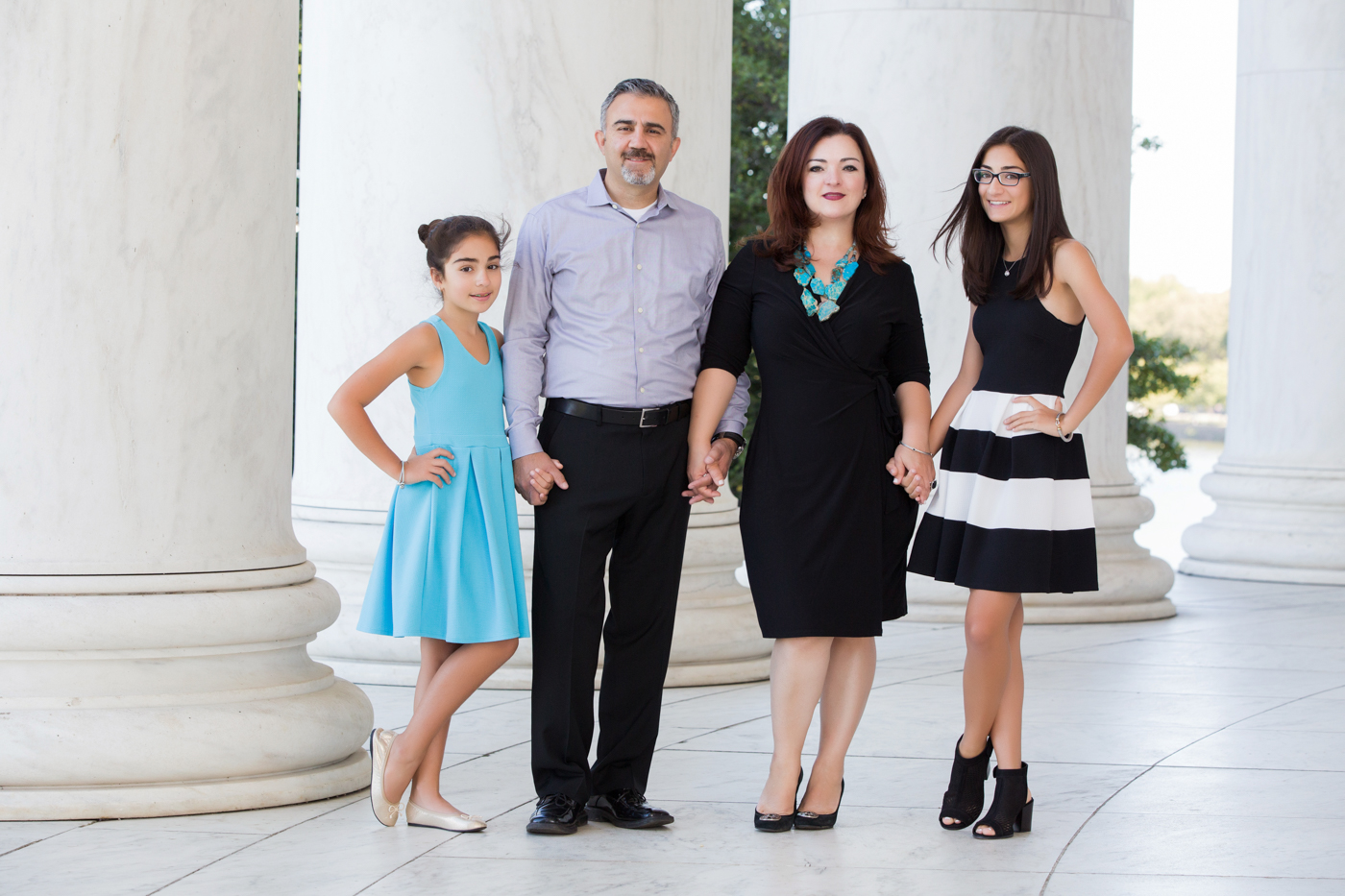 Normally a family photo shoot lasts about 1-1,5 hrs. It's long enough to get all the shots, but not too long, so that my clients are not getting tired. I usually do all the group shot first – the family altogether to get everyone to relax. I noticed that it's easier to relax in front of the camera, when you're a part of the group versus individual portraits.
After a variety of group family shots, I move to smaller groupings – in this case it's mom and the girls, dad and the girls, just kids. There's a lot of variations, but I always ask my clients what groupings they prefer.
Sometimes I may move back and forth between smaller groups, individual shots and family altogether. I try to feel the mood of every family member and engage everyone as much as I can.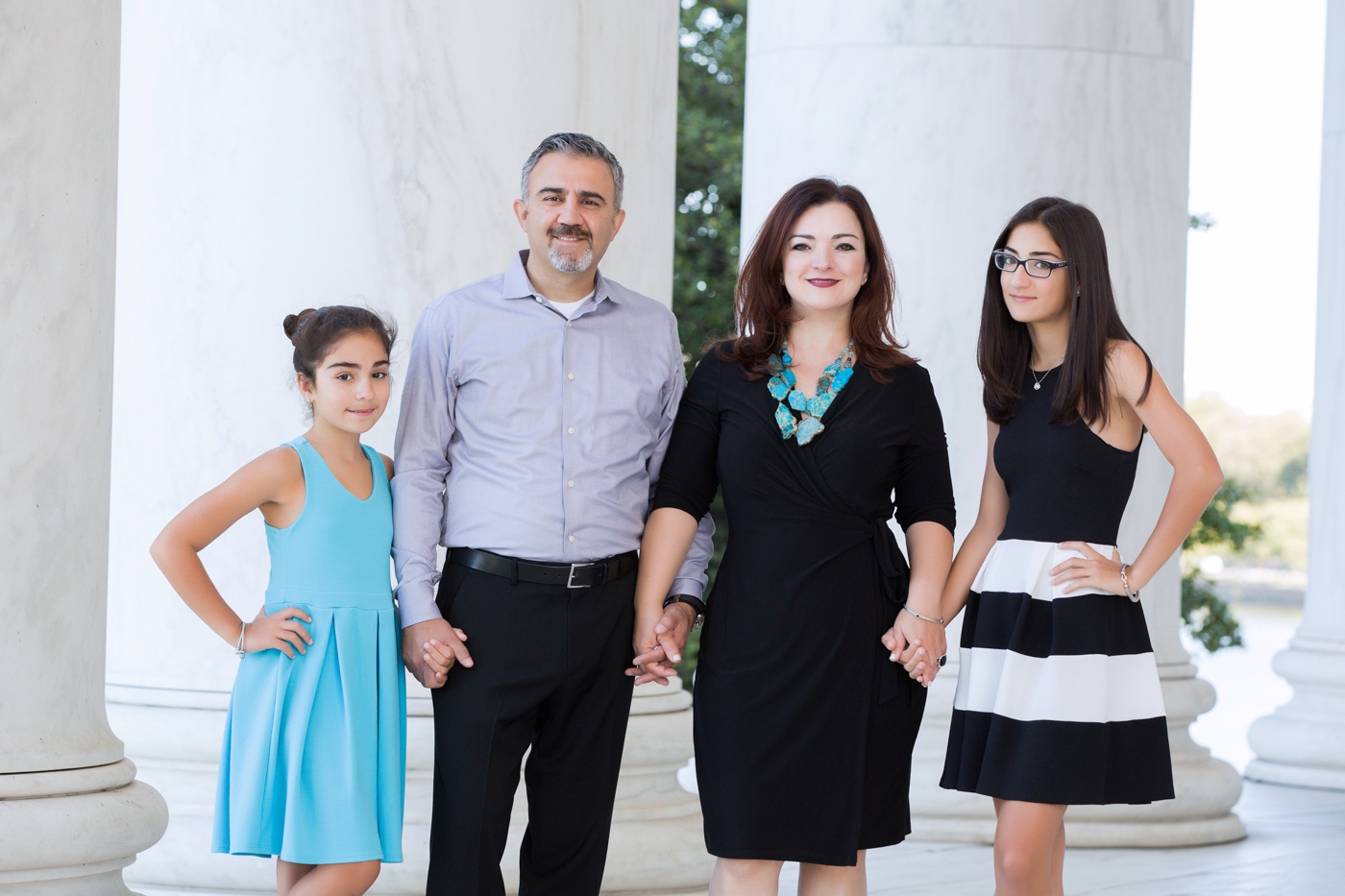 Finally, we do a few walking/moving shots, that looks not as posed, more candid and natural.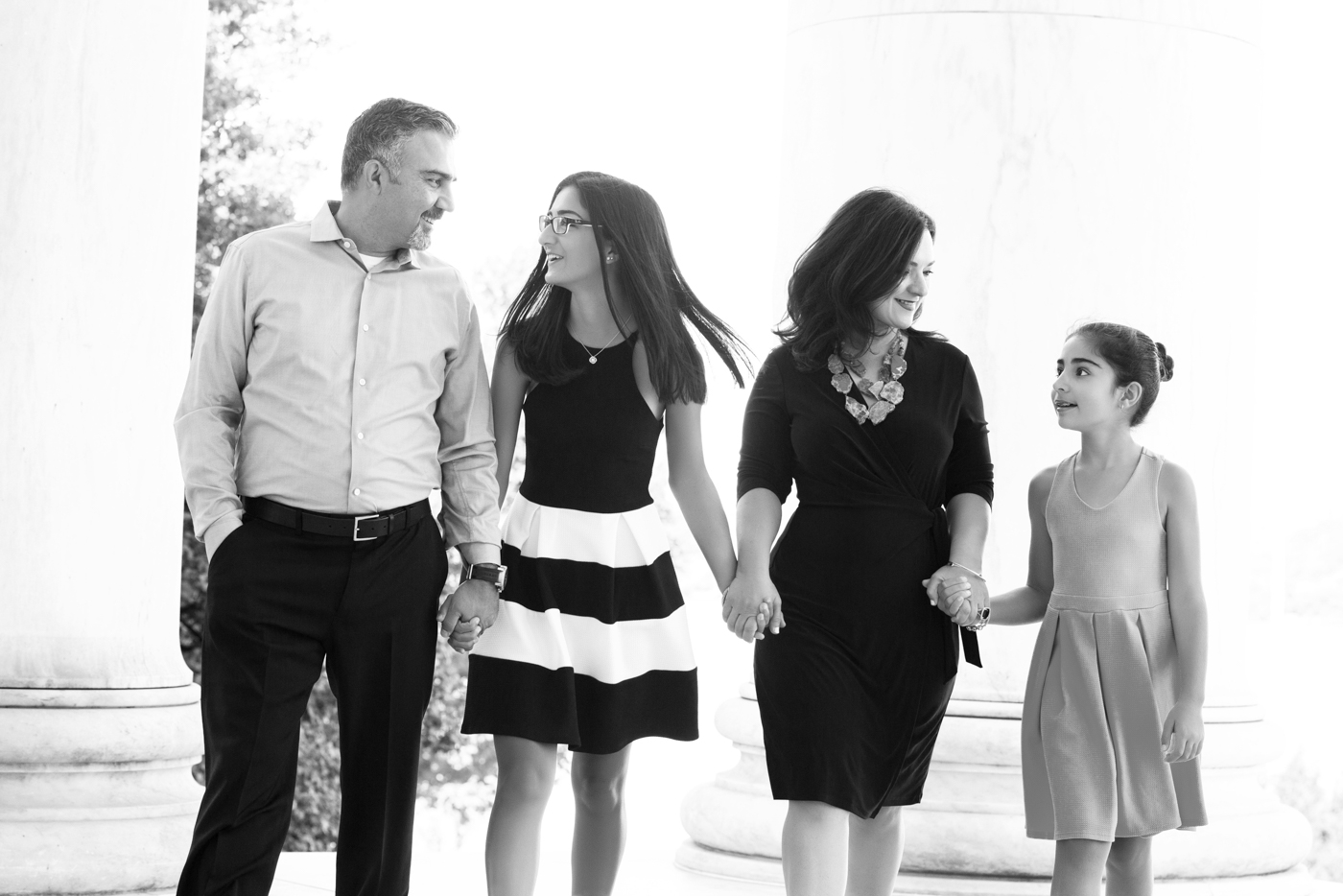 Some families want to do two different outfits – it's usually one formal, dressy, and one more casual like jeans and t-shirts. In this case, they asked me to do more pictures of the girls wearing something casual.
They look so pretty! I'm sure these will be cherished over the years.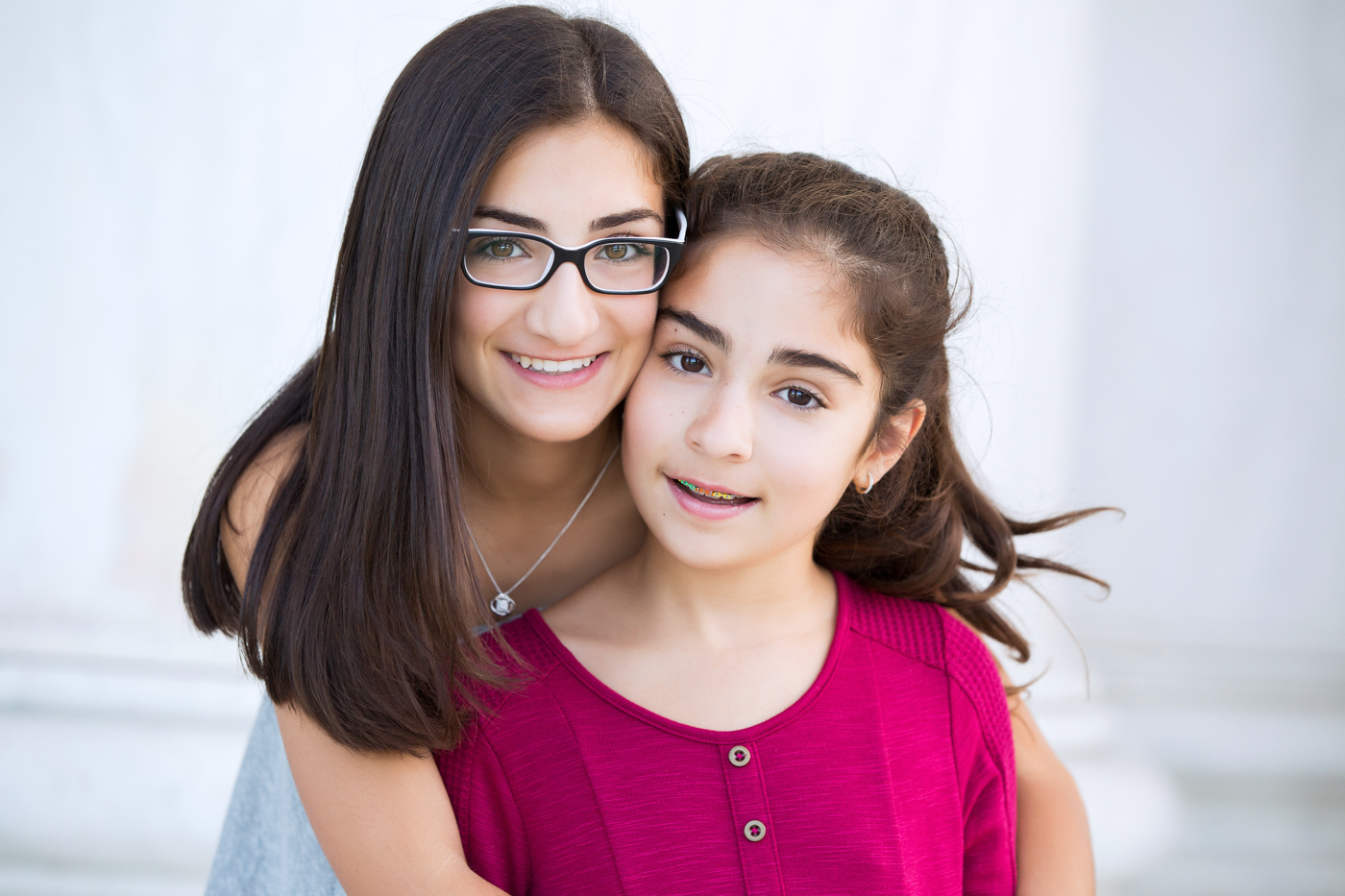 To schedule your family photo shoot in DC area, please email me at [email protected]